AATD 2023 MEETING - Molecular therapies for liver disease in alpha-1 anti trypsin deficiency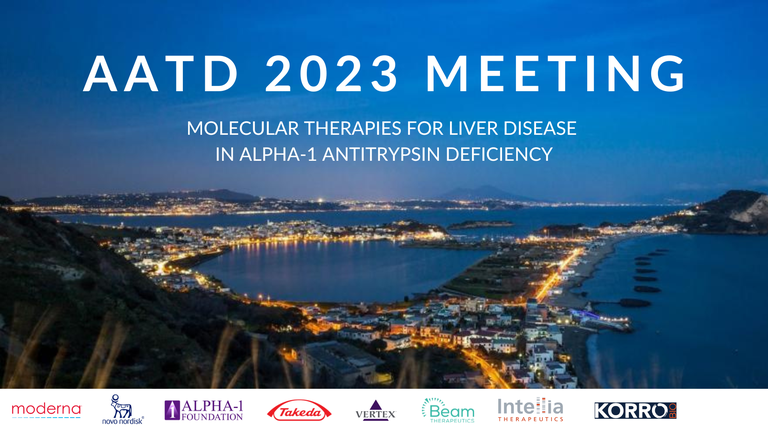 The meeting will be held from September 7th to 8th, 2023 at TIGEM.
Aim of the Meeting
The meeting is focused on therapy of the liver disease in α1-antitrypsin deficiency (AATD) and is addressed to clinicians and basic science researchers. The conference will provide a comprehensive overview and detailed lectures on cutting-edge translational and clinical research and will foster the exchange of ideas among AATD investigators. The sessions will be covered with lectures of distinguished experts as well as short oral and poster presentations of the most recent results of the attending researchers.
Organizers
Nicola Brunetti-Pierri
, Telethon Institute of Genetics and Medicine, IT
Pasquale Piccolo
, Telethon Institute of Genetics and Medicine, IT
Jeffrey Teckman
, Saint Louis University, US
Confirmed speakers
Carmine Settembre
, Telethon Institute of Genetics and Medicine, IT
Ayan Banerjee
, Beam Therapeutics, US
Paloma
Giangrande
, Wave Life Sciences, US
Neil
Henderson
, University of Edinburgh, UK
Leah
Liu
, Korro Bio Inc., MA, US
George
Makar
, Food and Drug Administration, US
Stefan
Marciniak
, University of Cambridge, UK
Ed
Marins
, Takeda Pharmaceuticals, US
Peter
Olinga
, University of Groningen, NL
Phil
Rosenthal
, University of California San Francisco, US
Pavel
Strnad
, RWTH Aachen University, GER
Andrew
Wilson
, Boston University, US
Scientific Program
More info
here
About a
lpha-1 antitrypsin deficiency
Alpha-1 antitrypsin deficiency is a condition that raises the risk for lung and other diseases. AAT is a protein made in the liver to help protect the lungs. If the body does not make enough AAT, lungs are more easily damaged from smoking, pollution, or dust from the environment. This can lead to chronic obstructive pulmonary disease (COPD). AAT deficiency may also cause a liver disease called cirrhosis. This is more common in children who have AAT deficiency. AAT deficiency runs in families. Many people do not know that they have it, but early diagnosis can help prevent COPD and other serious lung diseases.