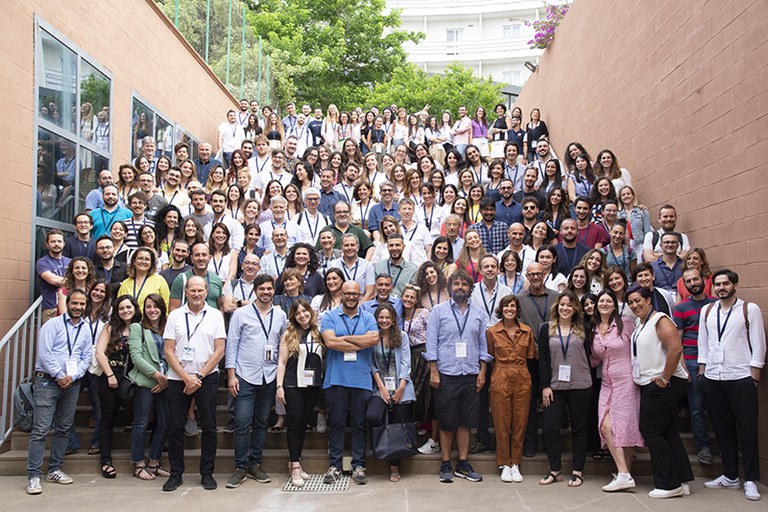 After a number of Covid disrupted years, the 2022 TIGEM Retreat returned at Silvi Marina, a beautiful seaside resort in Abruzzo, from 7th-9th June. The Retreat was organized by the Scientific Commission, led by Pasquale Piccolo in collaboration with TIGEM Scientific Office and several sponsor agencies.
The Retreat took the form of a collaborative forum, attended by 184 TIGEM researchers, to present and discuss new and largely unpublished findings on diagnoses, molecular mechanisms and innovative treatments for rare diseases and to develop new strategies to improve the Institute's efficiency.
"The scientific level of this meeting was impressively high" - commented TIGEM Director Andrea Ballabio  - "in terms of the quality of oral presentations and the broad representation of different TIGEM research areas". Andrea noted that TIGEM's strong commitment to basic scientific investigation with an equal emphasis on translational research represents a winning strategy to efficiently translate bench discoveries to the bedside. Telethon General Director Francesca Pasinelli went on to highlight how TIGEM's high-quality research output demonstrates the potential of investments in intra-mural research.
To acknowledge and celebrate high-quality scientific research, not one, but two researchers - Melania Franchini (Gambardella's lab) and Simona Ricciardi, (De Matteis' group) - were awarded with the best Oral Presentation Award, together with Marco Ferniani who won the Best Poster Presentation Award.
This year, in occasion of the Retreat, a TIGEM Innovation Challenge was organized to stimulate a more applied and innovative research vision in young investigators. The three contest finalists had the opportunity to present their Innovative Project to a jury composed of Annamaria Merico (Head of Telethon Business Development Office), Stefano Zancan (Head of Clinical Development at Telethon) and Nicola Brunetti-Pierri (Head of the TIGEM Translational Unit). After stimulating discussions, Giuliano De Carluccio was awarded with the TIGEM Innovation Prize.
One of the most intense moments of the Retreat was the intervention of Anna Caccavo and Giuseppe Russo with their two children, one of whom, Giorgio, is affected by a rare genetic disease. This condition is so rare that despite years of exams and consultations with clinicians, the disease that affects Giorgio remained a mystery. This all changed when the family met Prof. Brunetti-Pierri who proposed that they enter the UnDiagnosed Disease Program (UDP), a project funded by Telethon and coordinated by TIGEM. The UDP aims to identify the genetic causes of thousands of very rare genetic diseases for which no diagnoses are available. Finally, after a deep genetic and clinical analysis, researchers gave a name to the Giorgio's condition: he is affected by Nicolaides-Baraitser syndrome. "To give a name to a disease is not the solution" – admitted Mrs Caccavo – "but in represents a big step forward. Not knowing destabilizes you. You never know what will happen and what should you do". Thanks to Giorgio's presence at the Retreat, each researcher returned to work with a stronger awareness of their mission, and this is undoubtedly the best prize.