Velia Siciliano, PhD - "Synthetic Biology in biomedicine: understanding the cellular complexity towards the design of improved T cell therapies"
When

Jul 07, 2023

from 12:00 PM to 01:15 PM

(Europe/Berlin / UTC200)

Where

Tigem Auditorium Angelo Maramai

Contact Name Diego di Bernardo
Contact Phone

08119230659

Add event to calendar

iCal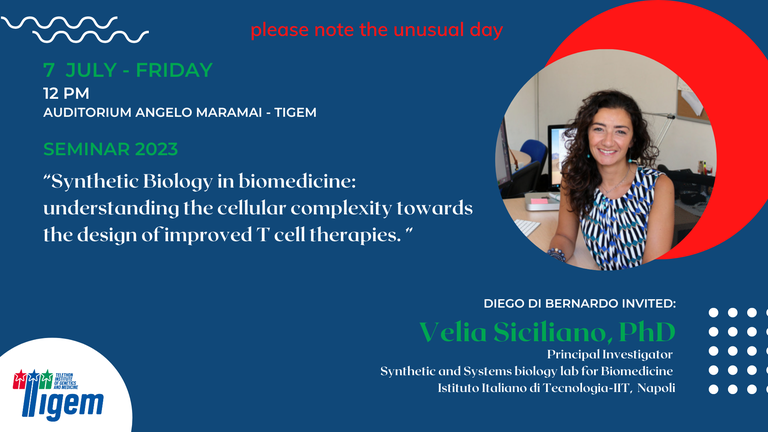 Velia Siciliano, PhD
Principal Investigator
Synthetic and Systems biology lab for Biomedicine
Istituto Italiano di Tecnologia-IIT,
Napoli
Short CVAbstract
Synthetic biology is a bioengineering discipline that aims at reprogramming cell fate by designing genetic circuits that sense and respond to disease biomarkers in the intracellular or extracellular environment. These smart interfaces process endogenous information and implement robust responses enabling high specificity and self-containment of desired output activation. Sensing cellular state may be particularly relevant when engineering T cell-based therapies for the treatment of solid tumors, to enhance the long-term efficacy of CAR-T cells. Over the talk I will discuss our current efforts for the design of genetic devices that can sense T cell state, focusing on strategies to enhance T cell persistence. Further, I will present our recent research on the impact of exogenous genetic payloads on mammalian cells and its implications for genetic circuits' design.