Roberto Nitsch, PhD - "Gene Editing safety: tools, innovations, and applications"
When

Jun 05, 2023

from 12:00 PM to 01:15 PM

(Europe/Berlin / UTC200)

Where

Tigem Auditorium Angelo Maramai

Contact Name Alberto Auricchio
Contact Phone

08119230659

Add event to calendar

iCal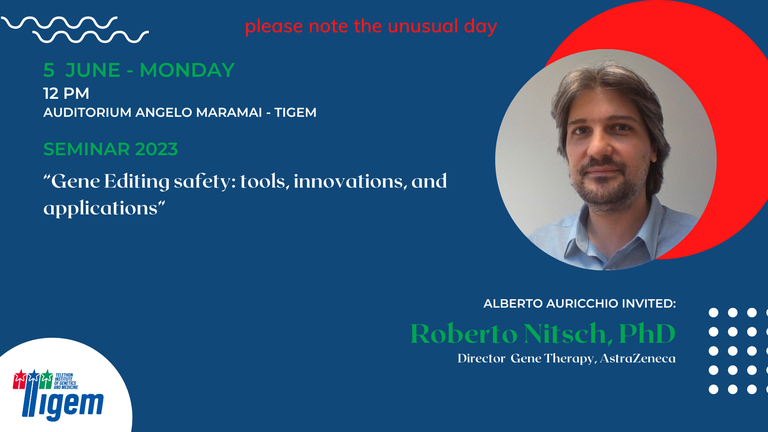 Roberto Nitsch, PhD
Director Gene Therapy
AstraZeneca
Short CV
Abstract
CRISPR-Cas9 is a groundbreaking innovation in genome manipulation, showing significant potential for human therapy. However, the ease of genome editing with CRISPR has led to its consideration for clinical applications without adequately addressing potential risks. The primary limitation of CRISPR lies in its On- and Off-Target activity, as well as the immunogenicity of the machinery and delivery vehicle. At AstraZeneca, we have developed innovative assays and technologies that enable safe application of CRISPR in vivo and ex vivo, for both routinary applications and in the context of personalized clinical settings.