Paolo G.V. Martini, PhD - "Messenger RNA beyond vaccines: treatment of Rare Genetic Disorders"
When

Jan 17, 2023

from 12:00 PM to 01:15 PM

(Europe/Berlin / UTC100)

Where

Tigem Auditorium Angelo Maramai

Contact Name Nicola Brunetti
Contact Phone

08119230659

Add event to calendar

iCal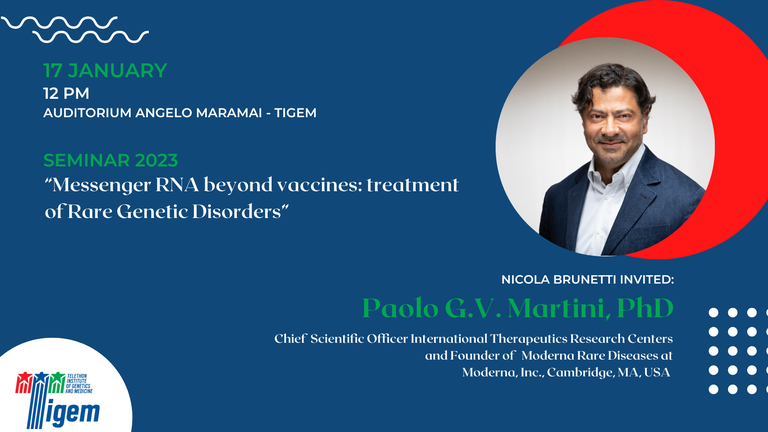 Paolo G.V. Martini, PhD
(
Short CV)
Chief Scientific Officer International Therapeutic Research Centers
Founder of Moderna Rare Diseases, Moderna Inc.
Cambridge, MA, USA
Abstract
Advances in the chemical modification of nucleosides ablating the immunogenicity profile of an mRNA, as well as sequence optimizations enhancing protein translation, and new delivery systems improving uptake and release are all allowing mRNA to become a more suitable modality for translation into the clinic.
We will discuss mRNA as therapeutic for Glycogen Storage Disorder type 1a (GSD1a) which highlight the ability to deliver mRNA using lipid nanoparticles to the liver translating an active protein with significant impact on the phenotype of an animal model of disease, and its application in the clinic.