Marcus A. Mall, M.D., FERS - "Pharmacological modulation of CFTR in patient-derived primary airway epithelial cell cultures in cystic fibrosis"
When

Nov 10, 2023

from 12:00 PM to 01:15 PM

(Europe/Berlin / UTC100)

Where

Auditorium Angelo Maramai

Contact Name Luis Galietta
Contact Phone

08119230659

Add event to calendar

iCal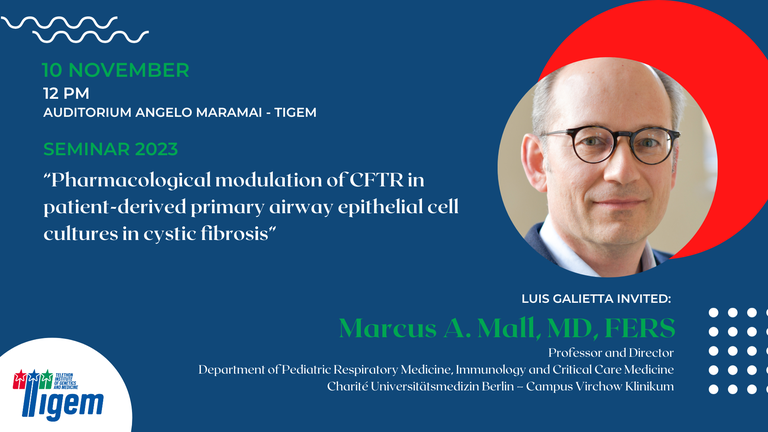 Marcus A. Mall, M.D., FERS

Professor and Chair, Department of Pediatric Respiratory Medicine, Immunology and Critical Care Medicine
Medical Director, CharitéCenter 17 for Obstetrics and Gynecology, and Child and Adolescent Medicine with Perinatal Center and
Human Genetics
Charité - Universitätsmedizin Berlin



Short CV

Abstract
Cystic fibrosis (CF) is a rare genetic lung disease with high disease burden and early mortality, caused by mutations in the CF transmembrane conductance regulator (CFTR) gene. CFTR dysfunction in the airway epithelium leads to deficient secretion of chloride, bicarbonate and fluid and is mechanistically linked to impaired mucociliary clearance, which in turn causes chronic airway infection and inflammation in patients with CF. The recent introduction of highly effective CFTR modulator therapy with elexacaftor/tezacaftor/ivacaftor (ETI) led to a substantial clinical benefit for patients with CF carrying the responsive F508del mutation in the CFTR gene. Primary bronchial epithelial cultures grown at air-liquid interface (ALI) were instrumental for the development of ETI, demonstrating the strength of this model system to recapitulate pharmacological CFTR rescue and predict clinical efficacy. With the emergence of the conditionally reprogrammed cell (CRC) culturing method, we are now able
to generate ALI cultures from nasal brushings that can be obtained non-invasively from CF patients including children. ALI cultures of nasal epithelial cells enable functional studies on key aspects of CF pathophysiology including epithelial ion/fluid transport, mucus properties, ciliary beating and mucociliary transport in individual CF patients harboring specific CFTR mutations. We show that patient-derived nasal epithelial cultures represent a promising tool for pre-clinical drug testing, to advance precision medicine for patients carrying rare CFTR mutations, as well as to evaluate alternative therapeutic target, such as the alternative chloride channel SLC26A9 to enhance therapeutic options for patients with CF.