Juan P. Bolanos, PhD - "Metabolic shapes of brain cells and functional consequences"
When

Jun 20, 2023

from 12:00 PM to 01:15 PM

(Europe/Berlin / UTC200)

Where

Tigem Auditorium Angelo Maramai

Contact Name Diego Medina
Contact Phone

08119230659

Add event to calendar

iCal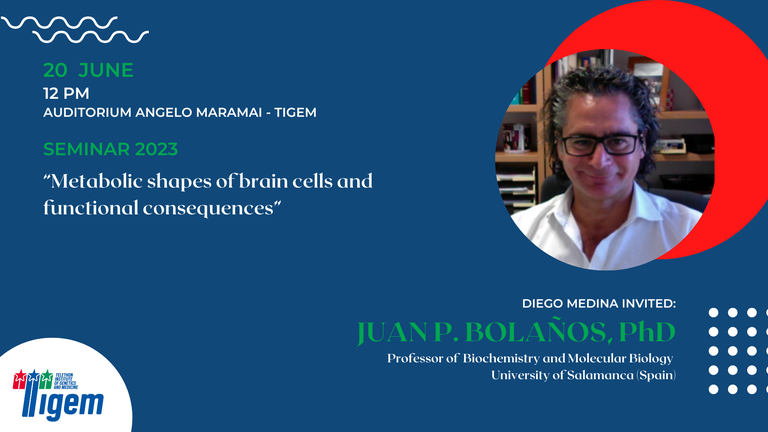 Juan P. Bolanos, PhD
Professor of Biochemistry and Molecular Biology
University of Salamanca (Spain)

Short CV


Abstract
Each brain cell type shows a specific metabolic signature that links energy conservation with cell function. For instance, the different relative dependence of astrocytes and neurons on glycolysis or oxidative phosphorylation (OXPHOS) implies that OXPHOS energy efficiency is not identical across all cell types. In a proteomic analysis of mitochondrial proteins isolated from astrocytes and neurons we revealed that mitochondrial complex I (CI) and III (CIII) super-assembly differs. In neurons, CI is tightly bound to CIII and determines high mitochondrial efficiency. In contrast, CI is loosely bound to CIII in astrocytes, determining low energy efficiency but, importantly, high mitochondrial ROS production. In this seminar I would like to show results showing that astrocyte metabolism is configured in such a way that it ensures the mitochondrial supercomplexes conformation to sustain signaling ROS, neuronal function and organismal higher-order behavior.