Helen S. Bateup, PhD - "The multi-faceted roles of TSC-mTOR signaling in neural development, function and disease"
When

Sep 12, 2023

from 12:00 PM to 01:15 PM

(Europe/Berlin / UTC200)

Where

Auditorium Angelo Maramai

Contact Name Andrea Ballabio
Contact Phone

08119230659

Add event to calendar

iCal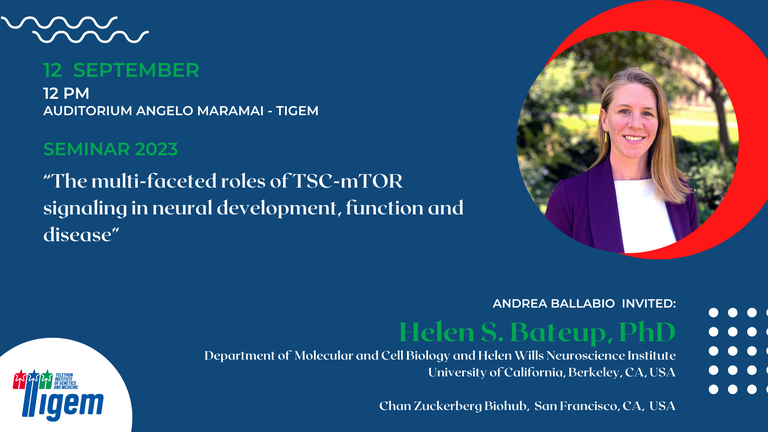 Helen S. Bateup, PhD
Department of Molecular and Cell Biology,
Helen Wills Neuroscience Institute,
University of California, Berkeley, Berkeley, CA, USA.
Chan Zuckerberg Biohub, San Francisco, CA, USA.


Short CV

Abstract
Research in my lab broadly aims to understand the cellular and molecular basis of neuropsychiatric disorders. We have a particular interest in Tuberous Sclerosis Complex (TSC) and related "mTORopathies", which are caused by mutations in regulators of the mTOR signaling pathway. To understand how mutations in mTOR regulators lead to brain malformations, epilepsy, cognitive impairments, and autism spectrum disorder, we use genetically-engineered mouse and human cellular models in combination with a variety of techniques spanning molecular profiling to behavioral analysis. Our goal is to understand how deregulation of mTOR signaling affects the cell biology and physiology of specific types of neurons and glia, and how altered neuronal activity impacts circuit function and behavior.
In this talk, I will present a recent study from our lab assessing the contributions of mTORC1 and mTORC2 to TSC-related brain pathologies in mouse models. In addition, I will discuss our work using human brain organoid models of TSC to understand the early developmental changes that lead to the formation of cortical tubers. I will present data showing how deregulation of mTOR signaling during early cortical development leads to altered cellular differentiation and the formation of enlarged and dysmorphic tuber cells.