Gennaro Gambardella, PhD - "Combining single cell sequencing and lineage tracing to study plasticity and drug response of cancer cells"
When

Jan 10, 2023

from 12:00 PM to 01:15 PM

(Europe/Berlin / UTC100)

Contact Name Gennaro Gambardella
Contact Phone

08119230659

Add event to calendar

iCal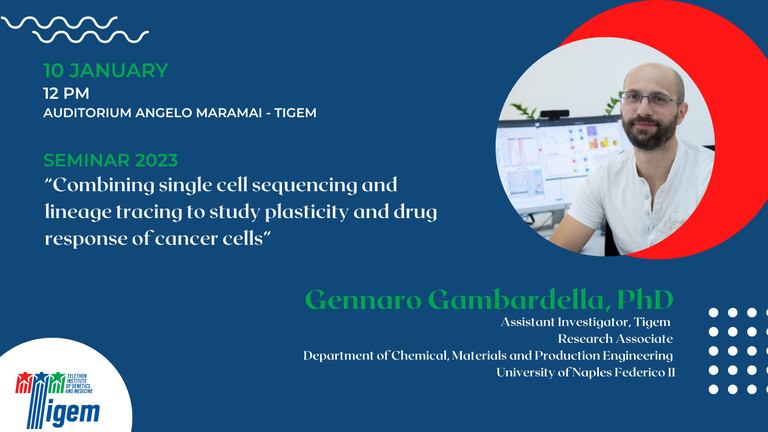 Gennaro Gambardella, PhD (Short Cv)
Assistant Investigator, Tigem
Research Associate
Department of Chemical, Materials and Production Engineering
University of Naples Federico II
Abstract

Triple negative breast cancer (TNBC) is characterized by the absence of known targetable biomarkers which still results in no clear therapeutic intervention. However, about 60% of TNBC patients is associated with overexpression or amplification of epidermal growth factor receptor (EGFR). Despite so, conversely to other cancer types like lung or colon ones where EGFR inhibitors have been proved effective, therapies targeting EGFR have yet variable and unpredictable responses in breast cancer (BC).
Thus, the poor mechanistic understanding of the dependencies of sensitive breast tumors and the lack of predictors have hampered the translation of EGFR inhibitors into the BC precision medicine paradigm.
Here we coupled single-cell transcriptomic and lineage tracing to comprehensively characterize drug-tolerant states of TNBC cells in response to incremental concentration of Afatinib, a potent protein kinase inhibitor that irreversibly inhibits both EGFR and HER2. Deep single-cell RNA sequencing of 5088 cells over 5 timepoints from a highly anti-EGFR responsive TNBC cell line identified a small pre-existing subpopulation of cells composed by 192 lineages (out of the initial 2,336 lineages) displaying distinct biological features, where elevated IGFBP2 expression initiated resistance and expansion of tolerant clones. dCas9 knockdown RNA and overexpression of IGFBP2 in MDA-MB-468 cells and additional
TNBC cell lines followed by cell viability dose-response curve assays confirmed the involvement of IGFBP2 in modulating the response to EGFR inhibitors in TNBC cells. Our findings provide new understanding of EGFR-dependent hierarchy in TNBC and could be useful for novel strategies of patient stratification and therapeutic intervention.