Francesca Coscia, PhD - "Unravelling the thyroid system from atoms to organoids"
When

Jun 06, 2023

from 12:00 PM to 01:15 PM

(Europe/Berlin / UTC200)

Where

Tigem Auditorium Angelo Maramai

Contact Name Mirko Cortese
Contact Phone

08119230659

Add event to calendar

iCal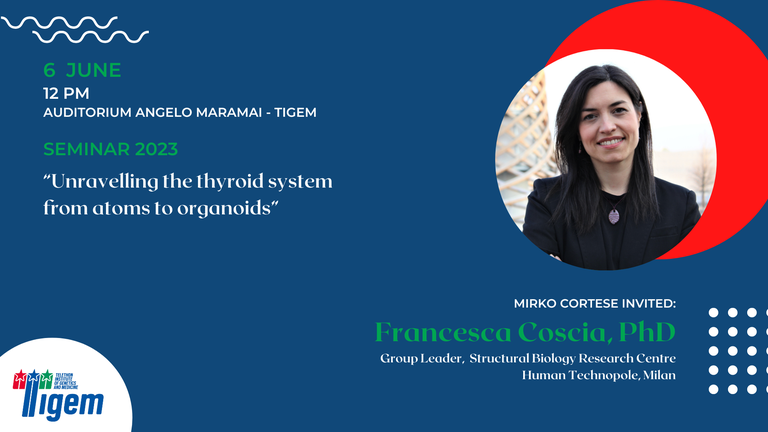 Francesca Coscia, PhD
Group Leader,
Structural Biology Research Centre
Human Technopole, Milan

Short CV
Abstract
The thyroid gland is a natural bioreactor that accumulates dietary iodine to synthesise thyroid hormones, essential for metabolic functions in vertebrates (e.g., growth, development, thermogenesis). Thyroid hormones are made extracellularly, via iodination of thyroglobulin, their protein precursor. Thyroglobulin then undergoes a complex trafficking pathway back into the cell and mainly to the lysosomes, before hormones can be released into the bloodstream and reach the target cells. This process has been difficult to study in close-to-native cellular systems so far, but the emergence of integrative and in-situ structural methods now offers the opportunity to elucidate this mechanism in depth. Starting from the recently determined atomic structure of human thyroglobulin (Coscia et al, Nature 2020), Francesca Coscia's group at Human Technopole is combining electron cryo-microscopy (cryo-EM) with biochemical and light microscopy tools to visualise and measure thyroid hormone regulation at different scales: from in vitro reconstituted systems to thyroid organoids. This research aims to open new fronts in thyroid hormone regulation in vivo, recapitulating phenotypes and providing alternative strategies for the treatment of widespread thyroid diseases, among which autoimmune diseases, cancer and congenital hypothyroidism (Coscia & Taler-Vercic, Mol Cell Endocr 2021, Tosatto and Coscia, Eur Thyroid Journal 2022).