Diego di Bernardo - "Engineering Biomolecular circuits to control gene expression for gene therapy and biosensing"
When

Dec 05, 2023

from 12:00 PM to 01:15 PM

(Europe/Berlin / UTC100)

Where

Auditorium Angelo Maramai

Contact Name Diego di Bernardo
Contact Phone

08119230659

Add event to calendar

iCal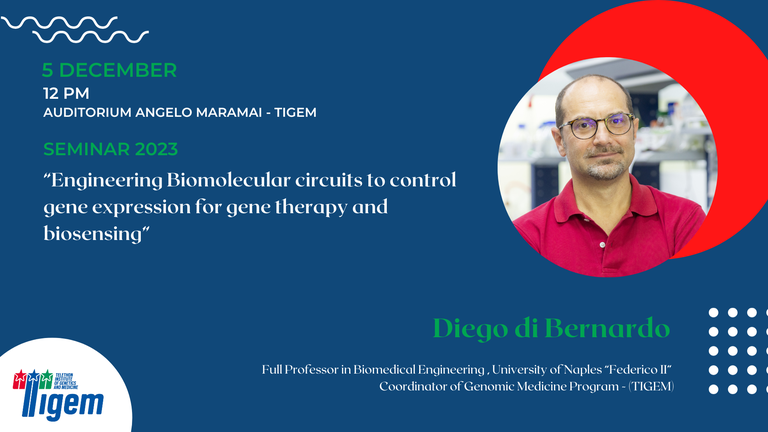 Diego di Bernardo
Full Professor in Biomedical Engineering , University of Naples "Federico II"
Coordinator of Genomic Medicine Program - (TIGEM)

Short CV

Abstract
Biomolecular engineering means to design and construct biomolecular gene circuits combining quantitative methods from Engineering with experimental techniques from Synthetic Biology. I will illustrate how we engineered biomolecular circuits for  inducible control of  gene expression, overcoming limitations of current approaches such as leakiness, small dynamic range and lack of robustness.   I will show how  these circuits can be used to engineer adeno-associated virus (AAV) producer cell lines that can generate high-titer and high-quality AAV vectors for gene therapy applications, overcoming current limitations of the triple-transfection method. I will also demonstrate how these biomolecular circuits can be used to create whole cell biosensors that can detect and report the presence of biomarkers or metabolites  to monitor disease states, such as intracellular copper levels in vitro and in vivo model of Wilson's disease.