Christopher Neufeldt, PhD - "Exploitation and evasion: viral remodelling of cellular membrane systems"
When

May 29, 2023

from 12:00 PM to 01:15 PM

(Europe/Berlin / UTC200)

Where

Tigem Auditorium Angelo Maramai

Contact Name Antonella De Matties and Mirko Cortese
Contact Phone

08119230659

Add event to calendar

iCal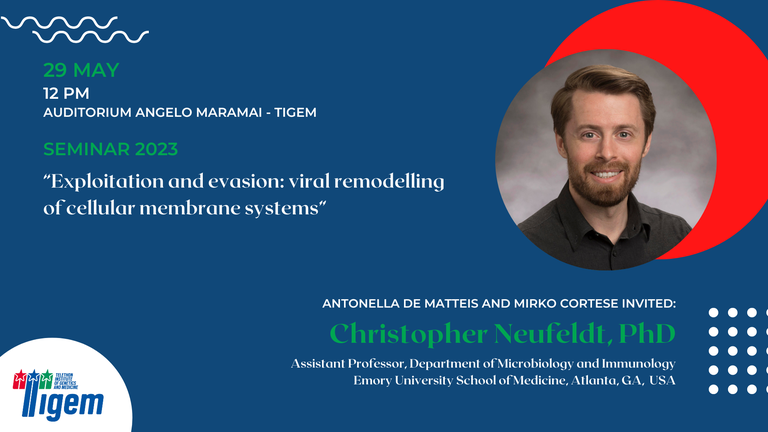 Christopher Neufeldt, PhD
Assistant Professor
Department of Microbiology and Immunology
Emory University School of Medicine
Atlanta, GA, USA

Short CV


Abstract

Using a limited number of proteins, viruses can subvert host cell processes to suit their needs, often resulting in a complete reorganization of cellular membrane compartments. Our lab employs complementary expertise in molecular virology and cell biology to investigate mechanisms at the interface between viruses and their host cells. Specifically, we are interested in uncovering common strategies used by positive-strand RNA viruses to facilitate virus replication or limit host responses to infection. Our current work is focused on evaluating the roles host membrane proteins have in facilitating positive-strand RNA virus infection. Through this investigation we have uncovered a central role for ER remodeling proteins in regulating virus replication and assembly for several flaviviruses, including dengue virus, Zika virus and West Nile virus. In addition to mechanistically delineating the functions of Atlastins in flavivirus infection, we uncovered a novel role for one member of this protein family in cellular retrograde vesicle trafficking. Our work places the ER remodeling system as a central component for flavivirus infection and spread.