Andrea Califano, PhD - "Defeating cancer one cell at a time"
When

Apr 18, 2023

from 12:00 PM to 01:15 PM

(Europe/Berlin / UTC200)

Where

Tigem Auditorium Angelo Maramai

Contact Name Diego di Bernardo
Contact Phone

08119230659

Add event to calendar

iCal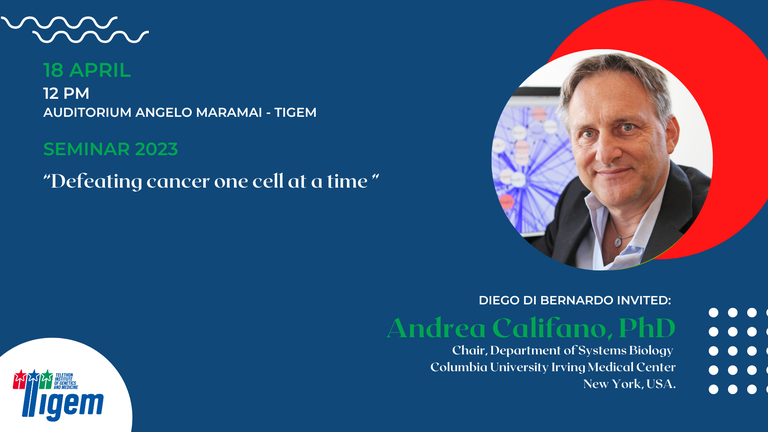 Andrea Califano, PhD - "Defeating cancer one cell at a time"
2023-04-18T12:00:00+02:00
2023-04-18T13:15:00+02:00
We have developed network-based methodologies for the systematic identification, validation, and pharmacological targeting of a new class of therapeutic targets.  These targets comprise Master Regulator proteins, whose concerted activity within a Regulatory Checkpoint module is responsible for the mechanistic implementation and maintenance of a cell's transcriptional state. By leveraging these methodologies, we have developed NY CLIA certified tests (OncoTreat and OncoTarget) that leverage large-scale drug-perturbation assays to systematically identify drugs and drug combinations whose mechanism of action is specifically effective in abrogating tumour checkpoint activity, on an individual patient basis. These tests have shown >80% success rate in 35 drug arms in PDX models established from patients who had failed multiple lines of therapy. We will first introduce the methodological advances supporting the development of these methodologies and then demonstrate their extension to elucidating drugs capable of targeting the master regulator dependencies of transcriptionally distinct tumour subpopulations, at the single cell level. Specifically, we will discuss identification and pre-clinical validation of drugs combinations targeting stem-like progenitor and differentiated cells in breast adenocarcinoma as well as Master Regulators of tumour-infiltrating T regulatory cells, thus potentiating the effect of immune checkpoint therapy.


Andrea Califano, PhD
Chair, Department of Systems Biology 

Columbia University Irving Medical Center
New York, USA
Short CV