Anand Swaroop, PhD - "Genetic variants, epigenome and age-related macular degeneration: Making sense of genetic studies"
When

Jan 24, 2023

from 12:00 PM to 01:15 PM

(Europe/Berlin / UTC100)

Where

Tigem Auditorium Angelo Maramai

Contact Name Sandro Banfi
Contact Phone

08119230659

Add event to calendar

iCal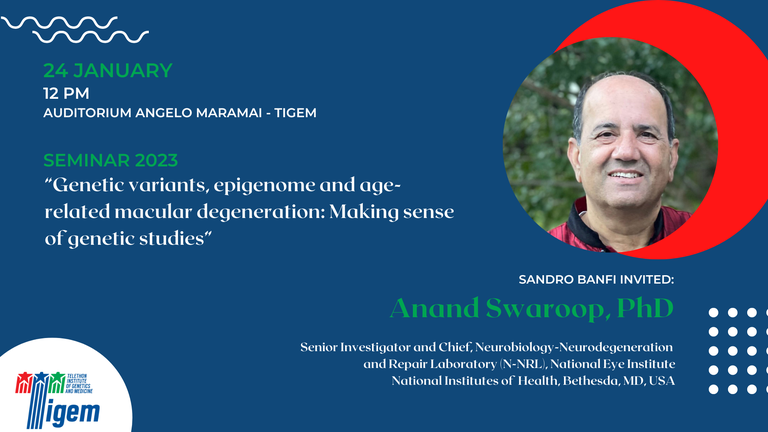 Anand Swaroop, PhD
(
Short CV
)
Senior Investigator and Chief,
Neurobiology-Neurodegeneration and Repair Laboratory (N-NRL),
National Eye Institute National Institutes of Health,
Bethesda, MD, USA
Abstract
Common healthy and disease traits, such as age-related macular degeneration (AMD),
largely result from interaction of inherited genetic variations with epigenomic changes
associated with aging and environment. Genome-wide association studies (GWAS) have
identified numerous AMD-linked genetic loci, yet their precise contribution(s) to disease
pathology is poorly understood since a vast majority of associated variants are present in
non-coding regions of the genome. We have generated eQTLs and genome topology maps
of the human retina, and I will attempt to provide an integrated analysis of divergent
datasets with DNA methylome to explain how non-coding variants can impact human retinal
phenotypes.