Milena Bellin, PhD - "Cardiac organoids from human pluripotent stem cells for modelling inherited diseases and testing drugs "
When

Mar 21, 2023

from 12:00 PM to 01:15 PM

(Europe/Berlin / UTC100)

Where

Tigem Auditorium Angelo Maramai

Contact Name Andrea Ballabio
Contact Phone

08119230659

Add event to calendar

iCal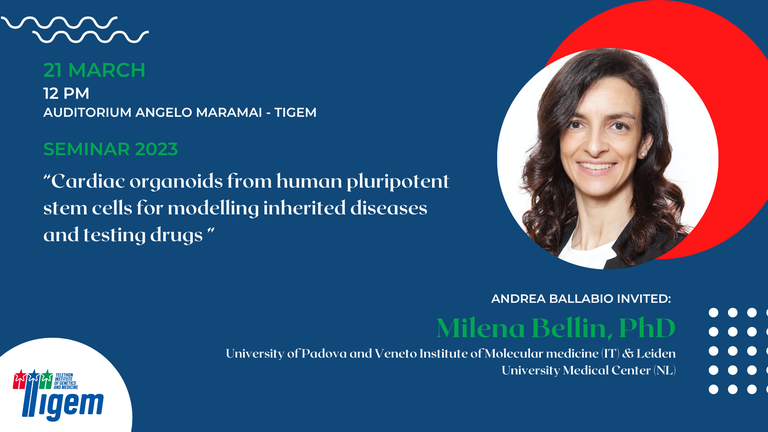 Milena Bellin, PhD (Short CV)
University of Padova and Veneto Institute of Molecular medicine (IT)
& Leiden University Medical Center (NL)

Abstract
Human induced pluripotent stem cells (hiPSCs) from patients are a precious tool to study human cardiac disease. We recently developed three-dimensional multi-cellular cardiac organoids combining hiPSC-derived cardiomyocytes, cardiac fibroblasts, and cardiac endothelial cells. We demonstrate that, under these culture conditions, hiPSC-cardiomyocytes mature to post-natal levels at structural, functional, electrical, and metabolic level. Using patient-derived hiPSCs, we show that cardiac fibroblasts can be active contributors to arrhythmia and that mature hiPSC-cardiomyocytes express post-natal isoforms of cardiac ion channels, revealing mutation effects in heart disease. Finally, we demonstrate that the cardiac organoids capture cardio-toxic effects of anti-cancer drugs. We will discuss directions and challenges in the field.