Giuseppe Ronzitti, PhD - "The liver as a model tissue to develop innovative solutions to the existing limitations of (AAV) gene therapy"
When

Jan 30, 2023

from 12:00 PM to 01:15 PM

(Europe/Berlin / UTC100)

Where

Tigem Auditorium Angelo Maramai

Contact Name Pasquale Piccolo
Contact Phone

08119230659

Add event to calendar

iCal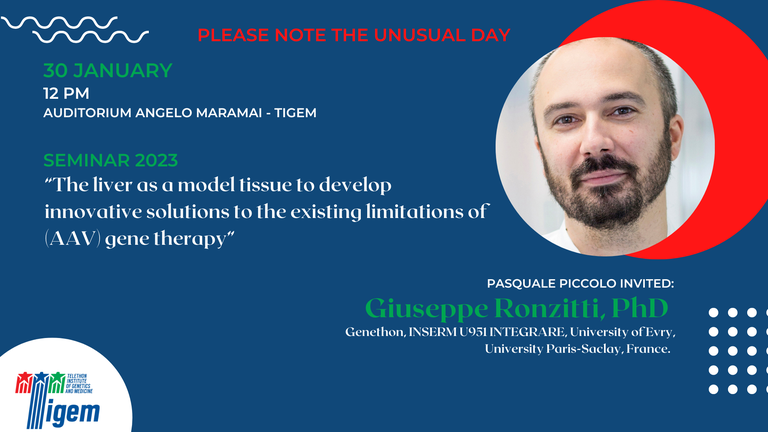 Giuseppe Ronzitti, PhD (Short CV)

Genethon, INSERM U951 INTEGRARE,
University of Evry,
University Paris-Saclay, France
Abstract
Liver gene transfer with AAV vectors has become a clinical reality. However, limitations remain that preclude the use of AAV vectors in larger patient populations. Through my presentation I will discuss the strategy of my team, oriented to the overcoming of current AAV gene transfer limitations. In particular I will discuss how we are tackling two important AAV limitations i.e. the humoral immunity and the toxicities associated to liver overloading in neuromuscular diseases. In particular I will discuss the recently reported use of IdeS endopeptidase to degrade anti-AAV immunoglobulins as well as show unpublished data on the development of new AAV capsids with a methodology developed in our laboratory.