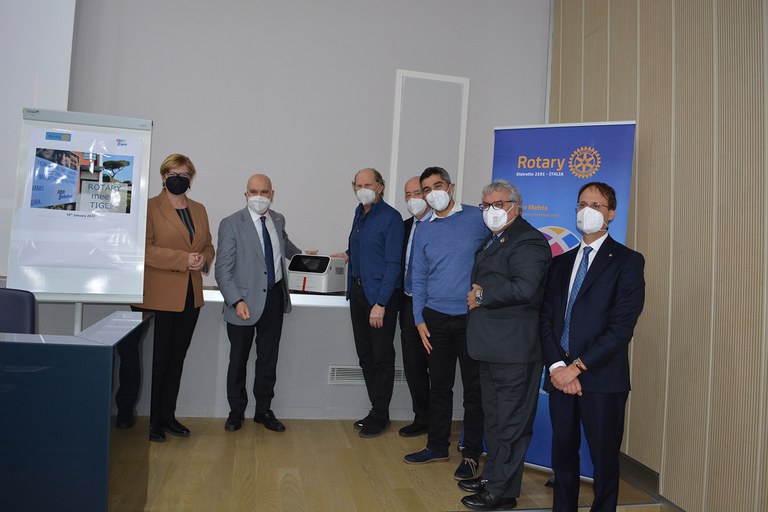 On 19th January, TIGEM hosted the 'Rotary meets TIGEM' event, welcoming members of the Rotary Club Napoli and the US Consul General to our institution. The day marked the delivery of state-of-the-art laboratory equipment to support TIGEM in our COVID-19 sequencing work. This gift is the result of a partnership between USAID (US Agency for International Development) and The Rotary, which aims to coordinate robust COVID19 pandemic responses, prepare communities for possible reoccurrences, and address impacts made by previous waves.
These machines will allow faster, more efficient sequencing of viral samples, and detection of known and emerging variants. TIGEM is the leading COVID-19 sequencing site in Italy; this boost will allow us to redouble our efforts and further our understanding of how the virus mutates, spreads, and exerts its effects. The equipment was donated to TIGEM during the handing-over ceremony by US Consul General Mary Avery.
In addition to the ceremony, the visitors were welcomed by our Director, Andrea Ballabio; learnt about TIGEM's research, infrastructure, and history from our Chief Scientific Officer, Graciana Diez Roux; and received an overview of TIGEM's role throughout the COVID19 pandemic, from the COVID project coordinator and TIGEM group leader, Davide Cacchiarelli. Also in attendance was Costantino Astarita, the governor of Rotary International, who presented the work of Rotary District 2101 in Campania, before the visitors had a tour of TIGEM's laboratories and facilities.
We are extremely grateful for the support and contributions of both the Rotary Club and USAID, which will be directly integrated into our sequencing work and overall scientific mission.