EUROPEAN RESEARCH COUNCIL (ERC): ASSIGNED TO ANDREA BALLABIO AND ALBERTO AURICCHIO TWO ADVANCED GRANTS FOR A TOTAL OF 5 MILLION EUROS
Andrea Ballabio and Alberto Auricchio received the prestigious ERC Advanced Grants, also as evidence of excellence of the Telethon Institute of Genetics and Medicine, capable of attracting the best Italian and international scientists.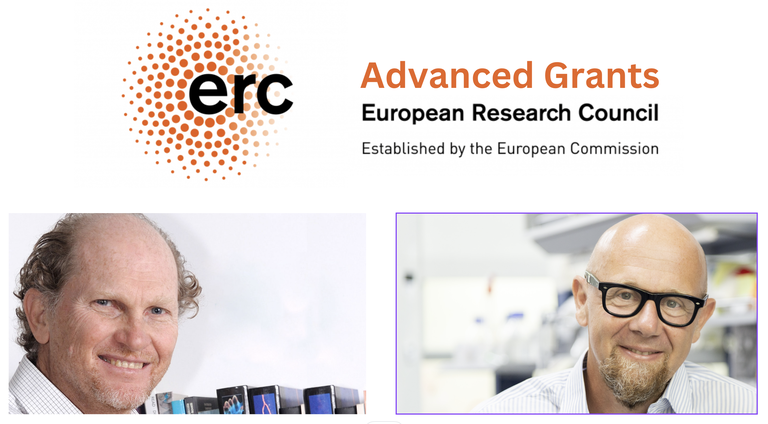 Pozzuoli, 30 March 2023 – The Telethon Foundation's excellence in research on rare genetic diseases is once again confirmed, with the assignment by the European Research Council (ERC) of two Advanced Grants to researchers at TIGEM in Pozzuoli Andrea Ballabio, director of the Institute, and Alberto Auricchio, coordinator of the Molecular Therapy area, of 2.5 million euros each. The ERC Advanced Grants are the largest grants awarded by the European Research Council and have a value of up to 2.5 million euros for 5 years, a feature that makes them not only difficult to obtain, but also very prestigious. This year, out of 1,647 projects presented, only 218 have obtained funding, 13.2%. In particular, the studies of the winners will focus on the projects INCANTAR, directed by Andrea Ballabio, and EXPEDITE, directed by Alberto Auricchio.
 INCANTAR will study renal tumours, one of the main manifestations of a group of inherited genetic diseases, such as Birt-Hogg-Dubé syndrome and tuberous sclerosis, characterized by an increased risk of developing tumours. The project aims to identify new mechanisms by which tumors develop and new therapeutic targets to treat this type of tumours, as well as for other types of cancer. EXPEDITE, on the other hand, will focus on the study of new gene therapy platforms, based on gene editing, which make it possible to overcome some limitations of the current one, thus expanding the spectrum of diseases, genetic and otherwise, that can be treated with gene therapy.
 On average, only 10% of researchers participating in the main ERC calls (starting, consolidator or advanced) get funding every year. Not only that: of this small group of valuable scientists, less than 1% has ever managed to obtain three grants as happened to Andrea Ballabio and Alberto Auricchio. This result, in addition to representing an important professional recognition for the winners, is also a confirmation of the Telethon Foundation's ability to attract the best Italian and international researchers to its research institutes. In fact, from 2007 to 2022, TIGEM obtained more than 16 million in funding from the ERC, about 10 million more than the Italian average. In particular, this year out of five projects won in Italy in the field of Life Sciences, two will be carried out at the Telethon Institute of Genetics and Medicine.
"Disclosure of the outcome of ERC tenders is often greeted in our country with comments of legitimate discouragement due to the relatively small share of projects won by Italian institutions, despite the large number of Italian researchers who access this prestigious funding opportunity by working, however , abroad - declares Francesca Pasinelli, Director General of the Telethon Foundation - We know that our limit is certainly not the lack of talent, but rather the absence of an enabling system for excellence. While congratulating Andrea Ballabio and Alberto Auricchio for this result, I would also like to invite a reflection on the Telethon Institute of Genetics and Medicine, which these two brilliant scientists have helped to grow together with their colleagues who have carried out highly competitive research in recent years world level. Studies whose effects we are also able to verify in terms of diagnostic and therapeutic tools. I believe that analyzing the characteristics of the Institute, its strategies and its working and recruitment method of Italian and foreign researchers who work there, could provide useful insights into the construction of an Italian research system".
Credit: Telethon.it